As researchers and quality professionals many of us at Sandholm Excellence Center frequently publish articles and papers in magazines, journals and conferences all over the world. The purpose is to share experiences and contribute to the development of knowledge about quality management, continual improvements and excellence. Here you can read some selected articles from us and from our newsletter Potential.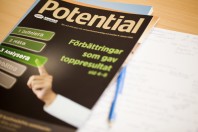 Leadership for quality with Tom Johnstone
Tom Johnstone is chair of Husqvarna, board member of Volvo Cars and Investor and former CEO of SKF. In this interview from Sandholm Associates newsletter Potential he shares his experiences of quality, continual improvements and leadership.
How to succeed with quality and excellence
Sunil Sinha, Resident Director of India's largest global company, the Tata Group, gives his best advices and share success factors in an interview from Sandholm Associates newsletter Potential.
Synergies between quality management and digitalization
Elmer Corbin, who is Global Delivery Excellence Executive at IBM Watson Health and past Chair of American Society for Quality (ASQ) shares his experiences in this article, from Sandholm Associates newsletter Potential, of how future computer technology will change the work with quality.
Important success factors for Six Sigma and improvement programs
Lennart Sandholm and Lars Sörqvist shares their experiences of how to succeed with Six Sigma and continual improvements in this article.
Poor Quality Costs – an important tool for building commitment to quality
Lennart Sandholm and Lars Sörqvist share experiences on poor quality costs from a four-year research program at the Royal Institute of Technology involving major Swedish companies.